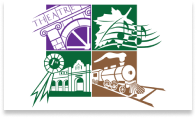 Family Fun Awaits in Sedalia, MO
Grab the littles & head to Sedalia for a fun-size-fits-all vacation
By Ann Klyce
Vacationing together as a family—even if it's just for a long weekend or a spontaneous day trip—is such an important activity. In vacation land, you can put away all of the little life annoyances and distractions and put the focus where it should be—on each other! While exploring new cities or adventuring in the great outdoors, you'll see sides of your kiddos that you never knew existed, and (if you're lucky), you'll ignite a life-long love of travel in them.
Ready to take off but unsure of where to go? Mark your calendars and pull up Google maps. You're about to discover Sedalia, MO.
I hear that train a comin'
While you might know Sedalia as a popular stop for cyclists on the Katy Trail, this little town with a big story is also the perfect place for quality family fun. Here you'll find beautiful scenery, a rich history, and kid-tested, parent-approved activities.
Do you have a little who is loco for locomotives? Head to the Comfort Inn Sedalia Station for some award-winning railroad-themed lodging. Located nearby popular Sedalia attractions like the Katy Depot and Bothwell Lodge Historic State Park, the hotel offers on-site fun as well, with an indoor pool that's open year-round.
Once your group has dried off, head to the Katy Depot for more fun with trains. This beautifully restored depot was built in 1896 as a fully functional railroad station but has since been turned into a fun-for-all-ages welcome center with interactive exhibits. Discover the impact of the railroad and ride full-steam ahead into the youth room where kiddos can sell train tickets, drive a train, and play with an actual telegraph. While there's plenty to do inside the depot, be sure to step out and snag a family photo with the railroad cars and railroad sculptured art
If stomachs start to make a train-like rumble, head to Kehde's Barbeque for an unforgettable dining experience. You'll be eating in an honest-to-goodness dining car, complete with a train whistle that kids can blow with a satisfying "toot toot!" But the world-class barbecue and the bottomless mugs of frosty root beer are the true stars of the show, and your family will leave with bellies stuffed and smiles on.
Discover the magic of Sedalia
Small towns carry a bit of magic that you can't find anywhere else, but you would never need to explain that to your kids—in Sedalia, the magic is right up front.
Head to Liberty Park for a magical afternoon filled with childhood delights. Search high and low to find the Fairy Tree, home to the elves and fairies created from a hollow stump. Created by fairies with a little help from their human friends, this magical moment is the first of many as you make your way through the park. Get a little nutty at the nearby Squirrel Tree, or grab a fishing pole and teach the kids the art of the perfect cast in Liberty Park's fully stocked pond.
If you're lucky enough to be visiting on game day, stop by the historic Liberty Park Stadium (a Works Project Administration project) to take the kids out to a ball game. Green grass, the cheers of the crowd, maybe even a hot dog or two—it doesn't get much more magical than that!
Both the spirit of adventure and the spirit of the West are alive and well in Sedalia, and Trails End Plaza is the perfect place to experience them for yourself. Make the "hook 'em" horns symbol as you pose with the larger-than-life bronze monument and learn all about the history of the cowboy and cattle drives in Sedalia. Dial in on your cellphone for an audio guide that will take you across the wide and lonesome plains and into the bustling heart of Sedalia, with hundreds of thousands of longhorn cattle by your side.
Roping up cattle can stir up a powerful hunger, and luckily, there are dining options aplenty. EL Tapatio is a favorite for its authentic Mexican food (with award-winning margaritas for Mom and Dad), Taco Tuesday specials, and plenty of outdoor dining. But if you want to try a food that is truly a Sedalia specialty, you'll want to head to Goody's Steakburgers.
This 1950s diner serves up the town favorite—the one and only "Gooberburger"! It's a classic burger topped with peanut butter, and while that may sound strange, all doubts will disappear after your first bite. Not a peanut butter fan? Choose from a menu chock-full of classic American favorites, and go ahead and give that jukebox a spin.
When your bags are packed and hotel keys turned in, you'll feel that familiar twinge of regret—do you really have to return home? Can't vacation go on forever? But take heart. The memories you've made and the snapshots framed will keep your family's trip to Sedalia alive for years to come. And the best part? Still more adventure remains, waiting for your triumphant return.