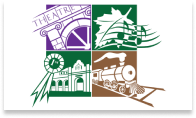 Railroads, History & Recreation—Oh My!
A Weekend Getaway in Sedalia, MO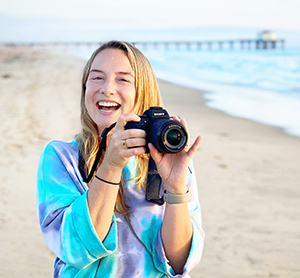 By Megan Zink
Megan Zink is a published photographer, writer, speaker, educator and demand generation marketer passionate about visual communication and exploration. She's a Crohn's champion + advocate, is obsessed with getting active outdoors in nature and assisting major travel brands and destinations with telling their unique stories.
Visit her blog Color and Curiosity or follow her on Instagram @moderatelyexcited & @color.and.curiosity.
At one point, the insistent blowing of a train whistle in the distance used to annoy me a little… but not anymore.
Sedalia, Missouri, will give you an entirely new appreciation for not only the logistical significance of the railroad but the historical elegance of it as well—as an economic driver, a carrier of culture, and now, a destination for recreation, nearly smack in the middle of the Show-Me State. But that's not all — I had the opportunity to spend a wonderful spring weekend exploring Sedalia. Read on to get inspired for your own weekend full of railroad-influenced culture, history, and recreation!
It's only fitting that such a gem— originally inhabited by the Osage and Shawnee indigenous peoples—would be named after one too. General George Smith took a gamble on a plot of land he thought would benefit from proximity to where he believed the railroad line would fall. He filed official record of "Sedville" in 1857 after Sed — the nickname for his beloved daughter Sarah — but changed it to Sedalia, as it was more pleasing to the ear.
If walls could talk: historic Hotel Bothwell's storied and star-studded past makes it an ideal home base for exploring.
When planning your weekend getaway, there's plenty of options, be they rugged or high-end. But it's helpful to be close to the action, and Hotel Bothwell not only helps you achieve that but is a destination in and of itself. Part of Choice Hotel group's esteemed Ascend Collection (which focuses on unique, boutique hotels that emphasize art, luxury, and characteristic culture of their respective destinations), Hotel Bothwell will transport you to the height of the Roaring 20s — when every trip was full of luxury, mystery, and adventure.
The hotel is a gorgeous blend of Classic Revival charm with Art Deco touches and modern amenities — and even special bike-related amenities for those interested in the Katy Trail. Rest and relax in one of their spacious, fully renovated suites (they're pet-friendly) and channel the glamour of some of the hotel's most storied patrons. Harry Truman, Marilyn Monroe (whose first movie premiered at nearby Fox Theater!), Bette Davis, Clint Eastwood, and Quentin Tarantino are just a few of the big names to grace these halls.
Stay and sip or grab a to-go cup (and sweet or savory treat!) at locally-owned, roasted and brewed Ozark Coffee Company.
After a restful night's sleep, I decided to mosey down to Ozark Coffee Company for a little caffeine kick-start and then headed to the famous Katy Depot building to learn about the important history the railroad played — both to the town and to the country and western expansion as well. The Missouri-Kansas-Texas Railroad (nicknamed Katy for the K-T stock code) essentially connected the east-west Union Pacific line to Texas and catalyzed the global cattle trade. In fact, Sedalia was where Clint Eastwood and Eric Fleming came to promote the show Rawhide, staying in the Hotel Bothwell!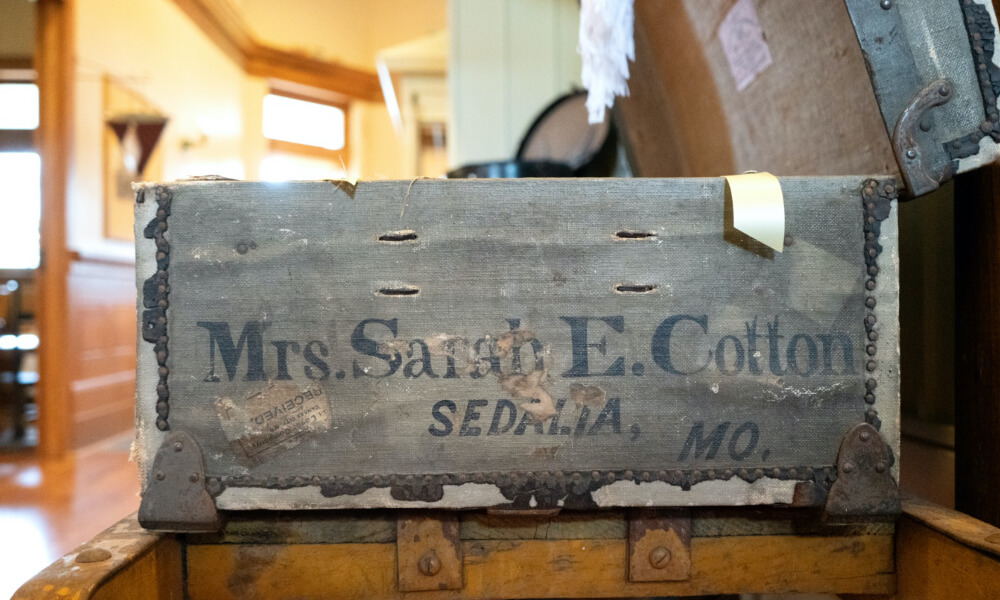 In addition to being the current location of the Sedalia Chamber of Commerce and Convention and Visitors Bureau, the Katy Depot houses an engaging and interactive exhibit that will keep your little ones busy (fun fact, the whole thing was planned and built off-site in California on a movie set!). After falling into disrepair, the building was painstakingly renovated to its former glory. Now, it's easy to imagine the glamour of railroad travel.
Colorful culture at the courthouse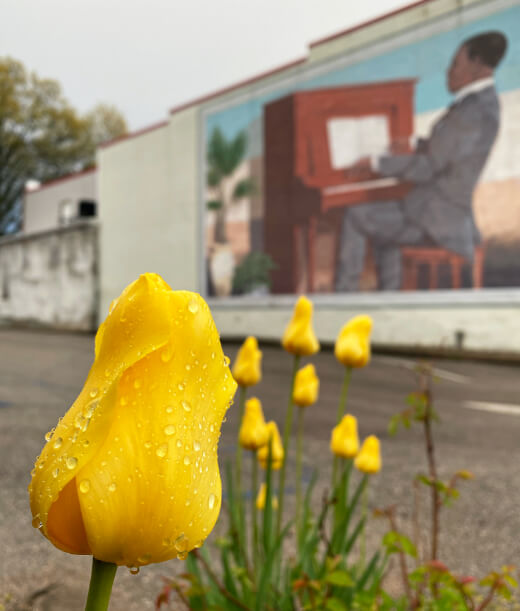 After exploring the Katy Depot, I headed over to the Circuit Courtroom on the third floor of the Pettis County Courthouse to check out the 42 colorful murals depicting the culture and curiosities of the city. One of my favorites was the panel depicting Scott Joplin and Scott Hayden, two incredible American composers, members of the African-American community, and contributors to musical history as we knew it. Named for its "ragged" tempo, Ragtime (Sedalia is known as the Cradle of Ragtime) evolved the classic marches from Sousa and went on to influence jazz and lots of other genres. Each summer, Sedalia holds the Scott Joplin Ragtime festival to pay homage to him and other great musicians.
History remixed at Lamy's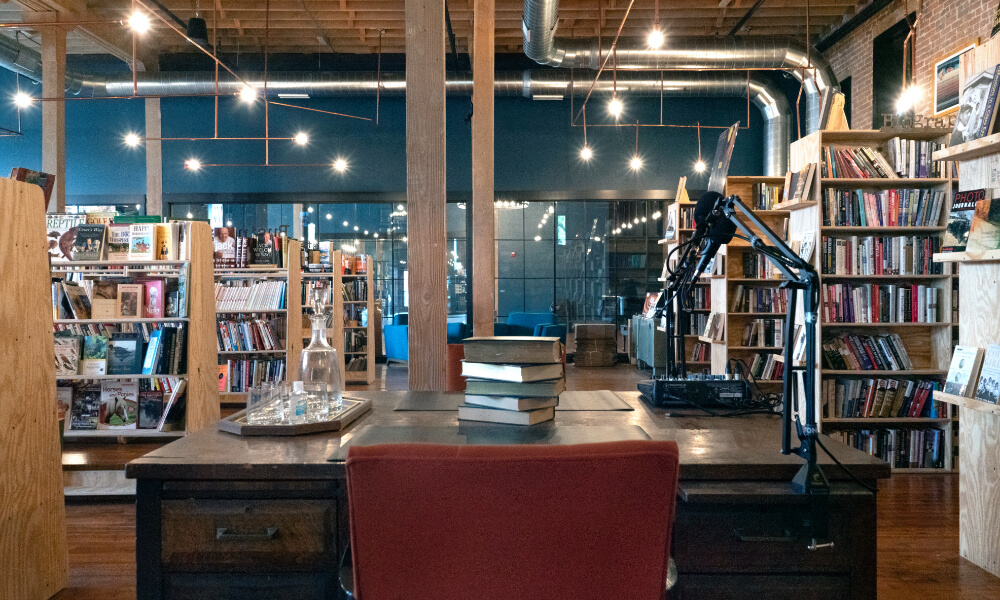 Before my tour at the historic Lamy's manufacturing building, I enjoyed a bright and colorful lunch on the outdoor patio at No. 5 Bistro and Bar (spoiler alert: I also came back for a quick cocktail later) — and then snagged a vintage George Carlin record for my mom at Josey Records.
Lamy's history is perfectly remixed — the building was erected in 1893 and was one of the early manufacturers of Levi's jeans after WWII until 1998! It has since been converted into an experiential destination for living, working, and playing: grab a bite or a cocktail at No 5 Bistro & Bar or something quick at the Ox Horn Market, shop for records or books at Josey, or just move in — the second floor houses offices and the third features luxury apartments. Be sure to check out the finishes and furnishings, gorgeously renovated and reclaimed. My unexpected pro tip: The restroom will make you green with envy.
Bothwell Lodge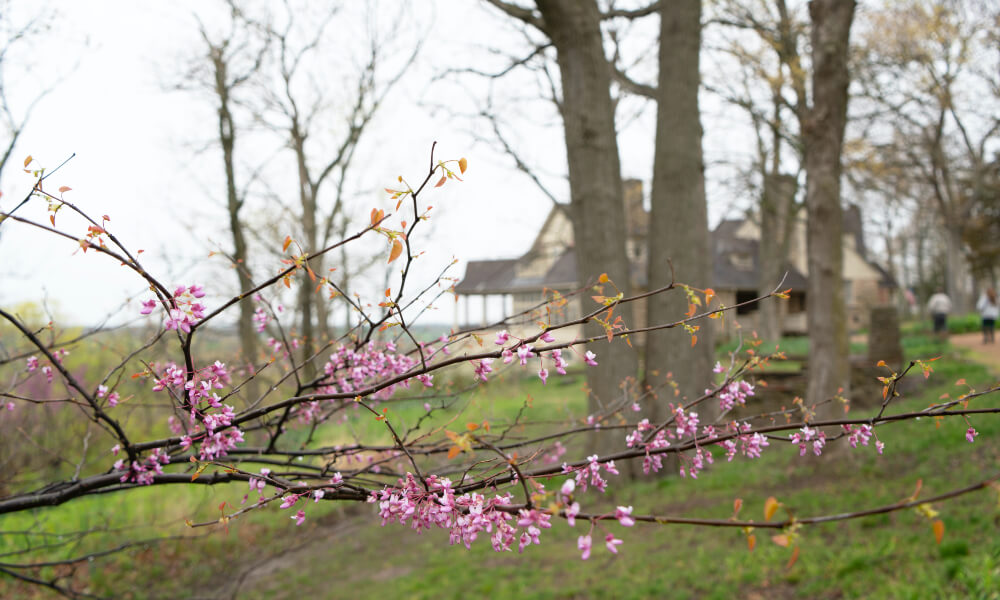 As if my brain wasn't bursting with fun facts and history already, I met my knowledgeable guides for a tour of the regal Bothwell Lodge in Bothwell State Park. John Homer Bothwell built the lodge in four phases over the course of 31 years as a retreat for himself and his family — one of the most impressive things was seeing the progression of styles and layouts as Bothwell's needs (and the times) evolved. Make a day of it and plan to hike or bike some of the surrounding trails! I wrapped up my evening with a very early but very elegant dinner at the Ivory Grille and sampled a flight of local-brewed beers at Craft Beer Cellar, just down the road from the hotel.
Spend the day (or many days) traversing the 230+ mile multi-purpose Katy Trail – be sure to keep an eye out for all the beautiful public artworks along the way!
One of the things I was most looking forward to checking out during my long weekend in Sedalia was the "Rails to Trails" Katy Trail, a 237-mile recreational trail that follows Lewis and Clark's route along the old Missouri-Kansas-Texas railroad line. The Rails to Trails conservancy is an organization with the mission to advocate legislation for safe and accessible trails; partner with federal, state, and local agencies to build trails and educate; and raise funds, plan, and protect them.
Before heading back to the Katy Depot to meet up with my guides for the day, I grabbed (arguably the best) donuts from Papa Jake's, as well as coffee and, admittedly, a second breakfast at Oxhorn Market to soak up the gorgeous Lamy's interior one more time. I also ducked into Nostalgia Vintage Apparel. You honestly have to see it to get the full experience, but I'll try my best: If you are a fan of vintage, this "shop" (more like decade-organized warehouse) MUST be on your list. From home goods and vintage threads echoing every decade to jewelry, collectors' items, and other treasures, you'll absolutely find something for everyone.
At last, I synced up with my guides, John and Doug, and suited up (pro tip — safety first! Always be sure to wear a helmet, and don't forget gloves in case the wind gets cold and some kind of eyewear to shield your eyes from debris) before hopping on the trail. We spent the next few hours leisurely winding our way about 10 miles, turning back once we'd made it to Clover Dell Park. A few must-see points of interest along the way:
The great Missouri State Fairgrounds (and campgrounds): 40 permanent architectural wonders, events, shows, and more.
Trail's End Monument: eye-catching sculptures, a refurbished drover's caboose, and tons of interactive history. Be sure to look for the phone number to call for a lively lesson in history!
Public artworks along the route: I recommend taking a couple breaks to check out the beautiful works along the trail.
Kansas City-style barbecue at Kehde's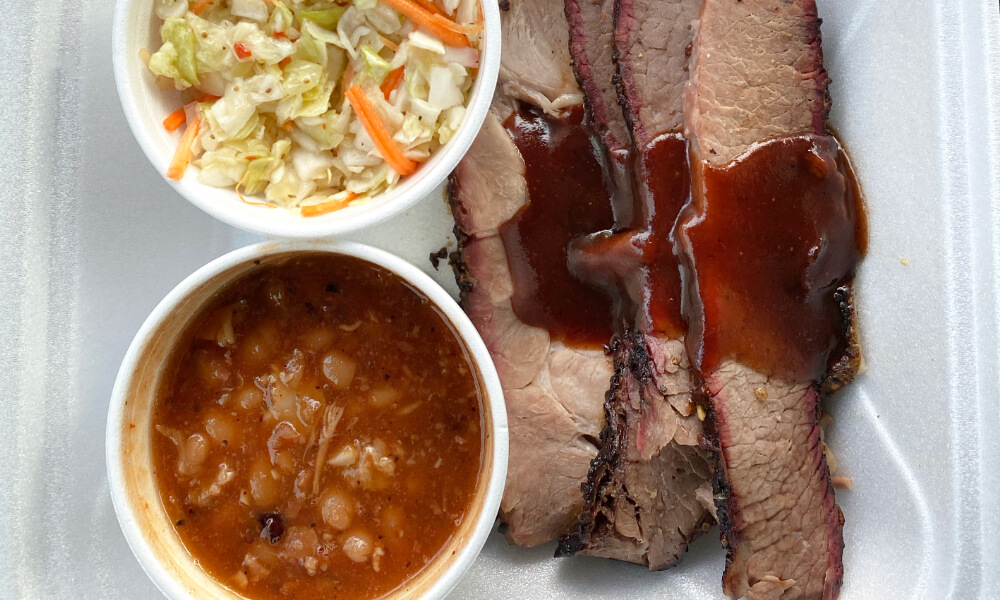 Fun fact: according to LearntoBBQ.com, there are four officially recognized styles of barbecue: Memphis, Carolina, Texas, and, of course, Kansas City. Characterized by a flavorful tomato and molasses-based sauce, Kansas City-style uses all types of meats cooked low and slow. Thanks to a recommendation from John and Doug, I ended up at Kehde's Barbeque for some curbside carryout and in-car dining. While I definitely would have preferred the other kind of car (a major draw is the vintage passenger railcar dining room), I was able to enjoy a hard-earned dinner to wrap up my weekend in beautiful Sedalia, MO, from the comfort of my own vehicle.
As you can tell, Sedalia, Missouri, is the perfect destination for a getaway — the wide array of historic architecture, exhibits, recreation, and culture means there is something for everyone. But don't take my word for it — it's in the Show-Me State after all — you'll just have to see it for yourself!