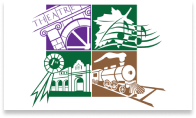 Hit the Trail & Ride the Rail in Sedalia, MO
Cyclists will fall in love with the Katy Trail in Sedalia
By Michelle Selby
Some couples bake. Some visit vineyards. Some dress up their dogs for Halloween.
But as for me and Andy? We bike.
Well, ok, we also do the other things (Woody, our 7-month-old goldendoodle, looks particularly dashing with a cowboy hat), but cycling is our first love. It's how we met. In college, on early Sunday mornings, when our classmates were sleeping in, we were on our bikes, seeking out new hills, valleys, and river paths to explore. After a few weeks of casually nodding to each other as we loaded up our gear in the university parking lot, I finally got up the nerve to ask if he would like a biking buddy, and the rest is history. And, as of this weekend, it will be five whole years of it.
To celebrate this golden anniversary (or whatever material five years of dating gets you), we decided to celebrate with a one-of-kind biking expedition. Our destination? The Katy Trail in Sedalia, MO.
The Katy Trail is a 240-mile-long recreational rail trail—the longest in the country! Cyclists, hikers and even horseback riders use the trail, enjoying the beauty of the state park and the intertwining Missouri river. Built along the former corridor of the Missouri-Kansas-Texas Railroad (K-T, Katy. Get it?), the trail takes you through multiple towns. After you're done hitting the trails, you can choose to hop on an Amtrak in Sedalia to your next destination, which is what we were planning to do.
While I had made sure to train with some extra long bike rides leading up to our trip, Andy assured me that I didn't need to worry.
"This trail is smooth, covered in crushed limestone, so it's well maintained and mostly flat. There's a reason we're not bringing our mountain bikes!"
So far, he had been right. We had hopped on the Katy Trail in St. Charles and made fast progress in three days. The only thing that slowed us down was our constant need to stop and take pictures.
"Click" Andy posing by the bridge.
"Click" Beautiful autumn leaves, set aglow by a fiery sunset.
"Click" The Missouri river, stretching out beyond us. This stop was for more than a quick photo op. We sat and munched on our PB&Js, feeling like we were the only people in the world.
Now, with just six miles to go, I felt that familiar swell of adrenaline (mixed with just a hint of competitiveness) start to curse through me. We were almost there!
"On your left!" I called out. Andy laughed in surprise as I blasted by him. Eventually, I could hear him start to gain on me, but at that point, it was too late:
Sedalia, we have arrived!
We had booked a room at the Hotel Bothwell, an elegant and historic hotel only a few blocks from the Katy Trail trailhead. A little dusty and sweaty from the trail, I might have normally felt a little out of place, but the front desk clerk assured me that they were delighted to have us, bikes and all. They even offered us a Katy Trail enthusiast discount!
After a shower and a nap (after 200-something miles, beds had never felt so good) we were ready to hit the town and more than ready for food. Our new friend at the front desk recommended we try the No. 5 Bistro and Bar.
"Be sure to check out the building." She added. "It was the sole manufacture for Levi jeans for more than 50 years."
The building lived up to her hype. Recently remodeled with an upscale industrial feel, I found myself taking yet more pictures. My Instagram feed was going to be full for weeks.
We ordered a couple of cocktails (a rosemary mule for me and a tequila mockingbird for Andy, who is a lover of all things punny) and goat cheese croquettes to start. The fried goat cheese was drizzled with honey and so good that I closed my eyes to experience the full richness of the flavor.
It's a tradition that we celebrate a successful bike ride with a "cheers to local beers," so after dinner, we had a very important stop to make: Sedalia's Craft Beer Cellar.
Here, we were blown away by the sheer volume of options. There were beers brewed nearby but also on the other side of the globe. I particularly liked the Cellar's slogan.
"We are not snobs, we are beer geeks!"
Words after our own hearts.
As we waited for our taxi to arrive, I spied a delectable treat through the window of the coffee shop next door, Ozark Coffee Company & Roastery, and purchased a slice of cinnamon streusel coffee cake.
"After all," I reasoned, licking a sugary crumb from my finger, "I did just have a coffee stout."
When I woke up the next morning, I luxuriated in the quiet elegance of our room, the silkiness of the sheets. This hotel had almost 100 years' worth of history in it, and I could see why it had attracted the likes of Clint Eastwood and President Truman.
So much history—just like me and Andy.
I leaned over and gave him a kiss on the cheek to wake him up.
"Happy five years, babe!"
After a quick breakfast, it was time to see the town. We stopped by the Katy Depot, a multimillion dollar restored Historic train station that is now used as a beautiful visitors center. After searching in the gift shop for the perfect Sedalia souvenir, I grabbed the free Sedalia Guide to Cultural Arts and we set off to begin our quest on the public art trail.
While I loved the Fairy Tree in Liberty Park, my favorite of our stops was the Daum Museum of Contemporary Art. I love modern art—always new, always changing, always pushing the expectations of what art should be. I saw some familiar favorites like Warhol and Chihuly, and I loved their sculpture exhibits. Andy commented that it was clear someone put a lot of thought and care in these displays.
Back at the hotel, Andy suggested we take a walk at sunset and I started searching for dinner plans.
"What about the Fitters Fifth Street Pub?" I suggested. "It's a bar and grill, they're supposed to have really good pizza."
"I actually already made reservations," Andy said. "I was thinking The Ivory Grill?"
I looked at him in some surprise. The Ivory Grill, the on-site restaurant of the Bothwell Lodge, is fine dining, complete with a classy Oak Room Lounge. This wasn't a typical choice. Scrappy fun tends to win out over the finer things in life when Andy is concerned.
"C'mon," he said, giving my shoulder a squeeze, "It's our five-year anniversary!"
"That sounds perfect," I said, "But we better get going if we want to catch the sunset."
As we left the hotel room and walked out into the evening, I could have sworn I saw Andy slip something into his pocket. Something that looked like a small red box.
I felt my heart start to race, and I reached out for his hand. He gave me a kiss on the forehead.
"You ready?" he asked.
"Absolutely." I said.
We walked out into the streets of Sedalia. The sunset was just beginning to turn the world pink.